Who says money cant buy happiness?
One of Lake Superior's finest accounts can now be yours. Featuring everything from multi GM PvP powerhouses to cash making mules, these characters will satisfy even the most die-hard UO player. Dont pass this opportunity to bid on this great account that still has plenty of room to grow, especially in light of the upcoming UO-R enhancements. Take a look at what you get:
5 Well developed (ok, some are just fucking awesome) characters on the Lake Superior shard.

A properly placed, decorated small house

60k+ in gold

Large assortment of magical weapons and armor (including force, power and vanquishing)

A registered copy of UO Assist

Large ship

Rare items including potted plants and ranger armor

Guildstone

Large collection of reagents

Complete assortment of dyed (and full) potion kegs

Placed vendor in a high traffic location

Large selection of runes

2 Semi developed characters on the Catskills shard, ready to play!
The characters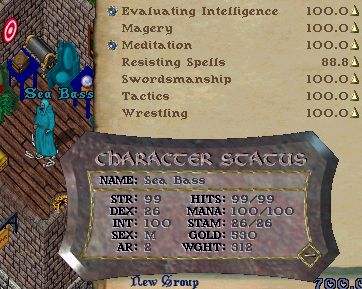 Nearly a 7x GM, Sea Bass is a true PvP powerhouse.
Built for Murder, Whoopie is a great PK machine.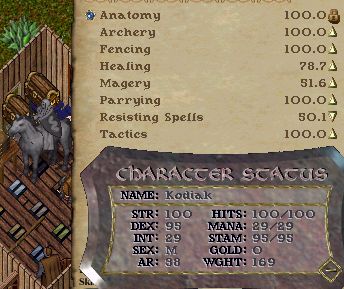 Kodiak is a top knotch melee fighter, you will find few better.
Potions and poisons anyone?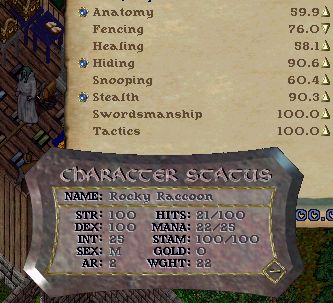 Rocky Racoon is a great tank thief in the making.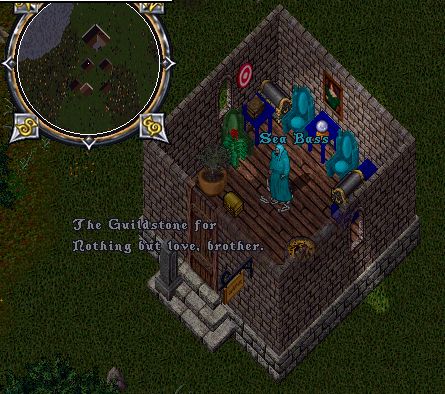 Home sweet home, owned by Sea Bass.
Don't miss this chance to own a rock solid account. Save yourself countless weeks of work and jump right into a fully developed account thats ready to roll right out of the box. This is a no reserve auction so get your bids in today!