12.24.06
End of Year Thoughts
Someone posted on the forums about a "Remembering Asheron's Call" thread on some random site where they mentioned my old character being one of the people he remembered fighting. And I've gotta tell ya, there can't be a month that goes by that I don't say to someone "God I miss AC". I know I've said this before, but it bears repeating. It was the best MMORPG PVP game I've ever played... period. Why? Things that current games just don't have :
- Looting (even if it was mainly just death items)
- Guild politics MATTERED. Who was allied with who, who "controlled" what towns/dungeons, etc... all absolutely critical to the game
- Absolutely amazing pvp. The ability to dodge war spells and projectiles, the ability to choose whether to attack high/mid/low with physical attacks, etc. - Jumping on buildings and such for tactical advantage
- An actual by god HUGE world. It had to have been 50 times larger than WoW is as far as land mass and the number of dungeons doesn't even begin to compare.
- Town/dungeon raids. I still very distinctly remember the 3 AB wars, Kara war and the very first territory war in Stonehold. Being a key player in all of those will stay with me as some of my fondest gaming memories.
I can remember so many specific battles from AC that it's scary. The game just had an impact, the fights were so intense and had meaning when fighting for your lifestone/town/dungeon. I can't help but feel bad for my fiance because she didn't get a chance to experience what a true pvp game felt like.
Developers will never make another game like that because 99% of players would hate it. Darktide was truly for the elite... and I miss it.
On another note, I will start taking applications for WTFMan positions after the first of the year so we'll see if we can bring the site back from oblivion. Anyhow, I hope everyone has a Merry Christmas. My best to you and yours.
09.27.06
Forums Down
Since so many people have been asking, I figured I would post. Yes, I am aware that the forums are down. They are hosted by a different place than hosts the main site, thus why the site is up and the forums are not. I've been working to get ahold of the host since Thursday of last week and so far no luck.
Continuing to work on it...
09.25.06
From Out of Nowhere...
An open letter to Wendy's…
To whom it may concern,

Sit down, and I will tell you a tale. A tale of great loss and personal tragedy.

In the year of our Lord two thousand six. On the windy day of September 25th at around 11:00am EST, I suddenly felt hungry. This hunger led me to consider many options, but in the end, it was the Glorious Wendy's that would satiate my hunger (Mainly, I just saw a commercial for your new Frescata sandwhiches on the tube and I just had to have one).

So off I went, I braved beautiful weather, and perilous traffic in my less-than-a-mile commute to your establishment. I arrived, and blessedly the drive-thru line was short. I immediately ordered a Frescata Italiana combo, Large Sized, with a Coke. I pulled around and after a short wait I was holding my food and drink. Now a couple things here, the super-ultra-mega sized coke is really freaking awesome, EXCEPT, if you have a sports car with small cup-holders. It looked like I was trying to put the square peg in the round hole if you know what I mean.

I took a minute to peruse the contents of my bag, to make sure I had the correct size of Fries. I love your fries did I mention that before? No? Well, I do! All appeared to be in order, so I again braved the "elements" to return to my workplace and consume all the awesomeness contained in said bag.

As I am exiting my car with my drink in hand, something terrible happened. The lid flew off, and the cup began to slip from my precarious grip. I did what normal people would in that situation. I squeezed harder, which of course led to Coca-Cola spewing out the top of the cup and onto the bag, my pants, my shirt, and the ground. I managed to salvage most of its contents, but the damage was done.

I set the now lidless cup down on the ground, and retrieved the lid, which I carefully placed back onto the cup. I grabbed my now soaked bag and what remained of my precious beverage and headed inside.

Unfortunately, our tale of woe does not end there, oh no. That would be too easy! Upon entering the stairwell to my place of business, the bag that held my precious sustenance suddenly seemed to disintegrate in my hands. In my haste to recover the bag, delicious golden French fries were strewn in every direction. (Now normally, the 5 second rule would apply, but alas, there were too many to save, and it's REALLY not a good idea to eat off this floor).

I was disheartened to say the least. There I was, French fries everywhere, looking as though I had just peed my pants due to the rather large coke stain on my pants in a rather inconvenient location. I looked as though I had been in a war, a war of attrition, a war I seemingly won. But no, I did not win. Not a single delicious French fry reached my belly. Overcome, a single tear cascaded down my cheek.

There was hope however, as the Frescata Italiana appeared to be encased in a somewhat water-resistant bag and I was able to consume this delicious treat.

I am telling you this, Wendy's Corporation, because you must take action to save the French Fries. Encase them in a bag or something, preferably water resistant, so that more fries are not lost. And more tears are not shed. Think of the children!

Sincerely yours,
- Joe
09.11.06
Recruit New WTFMen?
I have been pondering whether or not to try to recruit a couple of active posters to see if we can kick a little life into the site. As you all know, I am basically the last man standing. Site posters normally drive each other as what one says can spark an idea for a post from another or just modivate others to post on a completely separate topic. So, with that in mind, I have put up a poll on the forums asking your opinion as to whether or not we should recruit a couple of new guys to see what they can do.
You will have to register for the forums to vote, but that takes like 1 minute. To head off any such questions, you cannot use a free email service to register for the site (yahoo, gmail, etc) so use your real isp email address.
Looking forward to your opinions.
08.07.06
Nighthawk's RL
This may be a little lengthy, but that's only because so much as been going on. As I said a couple of posts ago... I've been busy as hell irl. Thankfully I can say that I have been a good kind of busy. My fiancee and I bought a house in March. It's about 3000 sq ft which is a big step up from the little ranch I owned previously, but there was a lot of work that needed to be done since the house was built in 1966 and was lived in by an 80 year old woman. So, it wasn't kept up in the greatest of shape. The roof had a leak, the floors were in terrible shape including many rooms covered in carpeting from the 1960s, HVAC was 20-30 years old, nothing in the kitchen worked aside from the sink, etc. As I said... a lot of work needed to be done.
The very good news is that the house appraised for $20k higher than we paid for it and the seller paid us $10 for repairs AND paid $5k in closing costs. So, before we even started we're $35k up in my mind. I took two months off from looking for work after I lost my job at Verizon specifically to work on the house. Coordinating the contract workers and putting my own back into the work was a bit time consuming. However, the goal was to have the house ready to move into by the time we got back from our vacation in May. Sadly, in the interim since we'd sold the old house so quickly, we had to move in with my parents for over a month while all this renovating was going on. Talk about motivation... living with the parents will do it.
In the end, we threw about $26k back into the house, but that includes a whole new HVAC system, all new kitchen appliances/counter/sink, hardwood floors added or refinished in the entire main level, repainting every room, removing a wall, etc. The house wasn't complete, but we could move into it finally.
But first... Alaska. Before all this started, Ally and I had paid for a weeklong cruise to the Inside Passage in Alaska. I won't go into too much detail about the trip because it could get quite lengthy. We did enjoy ourselves quite a bit though. We did a couple of excursions off the ship - one was a whale watching boat trip and the other was a glacier helicopter tour. Both we amazing, but the helicopter tour was by far the highlight of the week. We actually landed twice - once right on a glacier. Overall the whole trip we were just surrounded by the most picturesque scenery - more mountains than I would have ever guessed. Literally the whole trip was mountain after mountain. Here are a few of my favorite pics :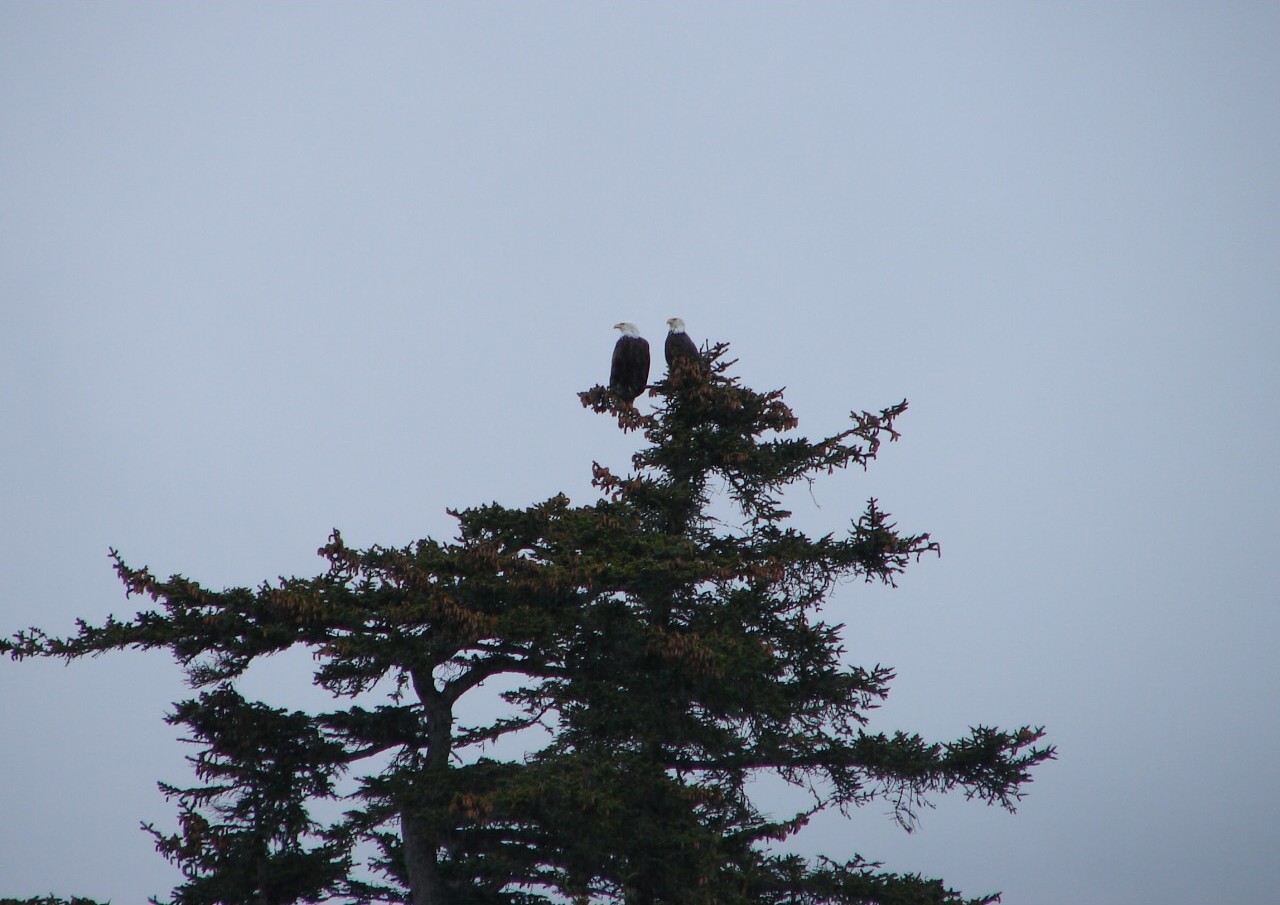 I've recently started a new job at Manheim in their Network Operations Center (NOC). They are a rock solid company under Cox Enterprises. As my recruiter called Manheim, it's basically the largest company you've never heard of. They do wholesale auto auctions and have about 90 around the country. Pretty much every car that you trade in, lease expires, etc that a dealer won't resell itself (which is about 99% of the time) goes to the wholesale auctions of which Manheim runs a vast majority of them. Right now I'm working an odd shift of Wed/Sat/Sun 13.5 hours a day, but the work is enjoyable, I'm learning a lot of non-networking stuff I haven't done before and the people seem pretty solid. Overall : two thumbs up.
My car was starting to get a little worse for wear and after having just got the new job I needed reliable transportation. So, after having served me for 8 years and 170k miles, the old 1998 Grand Prix GTP has been retired. Out with the old and in with the new.
I am now the proud owner of a 2005 Pontiac GTO : 400 hp, 0-60 in 4.8 seconds, 0-100 in 11.7 and quarter mile in 13.3. It's an automatic, but I read an article that showed that the manual being shifted by a professional driver was actually slower than the automatic. Add on to the fact that just finding a GTO was a challenge and that I have to drive in Atlanta traffic, I'm like a kid at Christmas every time I get into it.
And finally, Ally and I have been trying to finish up the last minute painting and such with the house to get it ready for the gathering I mentioned in the last post. It's basically a JoV Gathering/Housewarming/Engagement party all rolled into one fun filled weekend. For those JoV or friends I may have lost touch with, it's in Atlanta at my place on the last weekend of the month. Shoot me an email for specifics and invite.
So, that is the summary of what has been going on in my life in the past 6 or so months. At least, as far as rl stuff goes. Next post will be about what I've been up to in Warcraft.
08.03.06
Sigh
I would like to apologize to the loyal WTFMan readers for the lack of updates over the past few years and especially for the last 3 months. I think that may be a record as far as non-posting goes, and considering we've had some considerable downtime in the past... that's saying something. I don't know what is stopping Grey, Ron, Twist or Joe from posting so I can only speak for myself. As the last man standing (it seems), I have failed in at least posting occassionally to keep the site alive. As has been requested in the past, I won't turn wtfman into an archive of previous glory and will just post occassionally rather than never. But let me assure you, I wish things were different just like you do.
So what's kept me so damn busy? Well, as you've read in my last post there were a few goings on. For good or bad, it didn't stop there. I'll make a couple of posts in the next couple days or so explaining what I've been up to both ig and irl - even with pretty illustrations! Again, I apologize for being more of a slackass than usual. And I can promise at least one belly-to-back suplex for Joe when he comes down for the JoV gathering later this month. Maybe that will get HIM back on track.... then again, probably not.
05.03.06
Busy Busy Busy
Sorry I haven't posted anything in a while. I had four pretty huge things happen to me all in a 2 week period of time.
1> I lost my job (which isn't a terrible thing - I'll explain later)
2> I got engaged
3> I sold my old house in 29 days after being put on the market
4> I bought a new house which was a serious fixer-upper project, but is about 2x the size of my old house
So, as you can imagine I've been about as busy as you can imagine working my ass off getting my new house renovated. Basically, I've already filled a 15 cubic yard dumpster and I'll probably have to fill another just to get rid of all the demo'd stuff and construction scrap. New hardwood flooring in two rooms, tearing out a wall, etc. All a serious pain in the ass, but necessary to get it to where Ally and I consider it "liveable".
Anyhow, just figured I'd post and let you folx know I am still alive and why I've been lacking in my posting... this time. ;)
Also, the JoV guild on Mug'thol is recruiting people to try to get a little larger so we can start running AQ20, so if you're interested send me a tell in game on Acidreign or email me.
03.28.06
Hell Hath Frozen Over
I've no doubt that many of you will recognize this as the event that marks the coming of the apocalypse. If you know me at all and my dating past, this will come as quite the shock, so please do sit down. I would have wagered that this day would never come. And I mean I would have bet ANY amount of money against this - literally I would have bet the house on it. But, as life goes on things change and normally because of some extraordinary outside influence. So, without further ado... I, Richard A. Rowe, am now engaged to be married.
*pauses for the complete and utter shock to wear off*
Well, that wasn't a long enough pause for anyone who really knows me, but those people will be passed out on the floor from surprise a while.
So many people I've told irl asked how it happened, so I guess I'll give a quick rundown to save some duplicate email responses. We went up to Gatlinburg to celebrate our first anniversary. We went to the Pancake Pantry first thing for breakfast because Allison loves that place to the point that she woke me up saying "pancakes!" earlier that morning. After that and a visit to the aquarium they have there, we went to check into our hotel. The hotel was way at the wrong end of the main drag, but the room and service (which will be explained later) more than made up for it.
After we relaxed for a good while there we headed over to The Park Grille for dinner. I love this place. Damn good food, pianist, great service, good wine, etc. After that excellent meal we head back to the hotel. When we enter the room she sees the HUGE bouquet of stargazer lilies (her favorite) and red roses. Next to this huge arrangement was a bottle of Dom Perignon. These had made their way up to our room by the very helpful staff at the hotel while we were at dinner. While she's adequately distracted by this sight, I fish out the ring I'd stashed in the bedside table. As she turns around she finds me there on one knee asking her to be my wife.
"Awwww"... yeah yeah, I know. =)
Me... off the market... who'da thunk it.
01.27.06
JoV Server Move
My guild, Joy of Villainy, has been on Bleeding Hollow/Horde since day 1 of release. It's been a lot of fun, but we've been split apart from other former guildies thanks to the server we all agreed to start on, Archimonde, being down for 3 days immediately after release. So, small groups of the guild went here and there. Well, now is the chance for us to get some of them back together. Blizzard is opening a new server and allowing character moves from the following servers :
Archimonde
Mannoroth
Warsong
Bleeding Hollow
Skullcrusher
Azgalor
Burning Blade
Burning Legion
So, I'm hoping that a ton of Alliance move over so that the battlegrounds and world pvp hits the ground running in strong form. If you're on those servers and have always been DYING to fight against or with JoV... move on over. Hopefully it'll be a blast.
Update : Some asshat has the name Nighthawk and someone (don't know if it's that Nighthawk or not) has the guild Joy of Villainy. So, my guild is "The REAL Joy of Villainy". If you're looking for me, don't accept the fake NH or JoV as genuine. ;)
01.04.06
WoW Patch 1.9
Happy new year and all that. Hope you had a good Christmas and as drunken of a New Year's Eve as I did. Good stuff. Anyhow, onto the rant.
You want to know what I hate? When game devs make up bullshit lore that leads to people collecting bullshit items. Asking characters to collect shit like leather, bandages and copper bars for a CHANCE to get an item? Fuckin aggrivating.
I mean, let's be honest with ourselves here. Blizzard has 5 million customers at $15 a month that's $75 million a month. That's a lot of fucking cash. Now, what a fair percentage of those people want is to be able to access the battlegrounds without a year wait in the fucking god awfully designed queue. One would think since they are obviously not throwing endless money at their shitty servers... that they would hire some a new programmer or two to come up with cross server queues.
I know it'll be hard, but yanno what? If I had the sorta money they have to throw around, *I'd* get it taken care of. Dunno wtf Blizzard's problem is.
In addition to that they are breaking spells, breaking in game mail (want that money from the auction you sold? TOUGH!), etc. Great patch... I'm impressed. Really.
To quote my good friend The Dego, "if at $75mil a month they can't get it right, this venture is doomed."